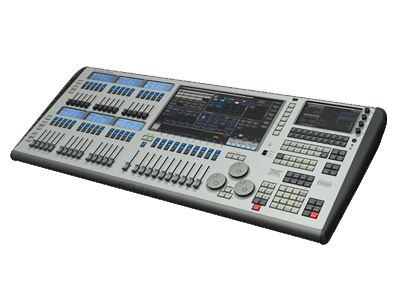 Avo­lites Are­na
DMX

Light­ing Console
Manufacturer: Avo­lites
Model Number: Avo­lites Arena
$ 400.00 / day
---
Lighting
Lighting Consoles
---
The Avo­lites Are­na is the ide­al desk for fes­ti­vals, the­atres and any­where that a larg­er con­trol sur­face is required. It com­bines the pop­u­lar inter­face of the Tiger Touch II with more live con­trol than ever before.
Along­side the vibrant main dis­play, a sec­ond touch screen pro­vides an addi­tion­al work­space win­dow, also labelling the adja­cent macro but­tons and rotary pots. These ful­ly assign­a­ble play­back encoder pots, allow intu­itive con­trol of chan­nels and effects. The six LCD screens dis­play elec­tron­ic leg­ends for 30 faders, for speedy access to all your play­backs, fix­tures and palettes. A brand new opti­cal out­put means the Are­na is equipped for fibre con­nec­tions, with no sig­nal loss over long dis­tances, from front of house to the stage – essen­tial in large and out­door venues.
Offer­ing seam­less Mul­ti User com­pat­i­bil­i­ty, the Are­na can be used as mas­ter, back-up or extra pro­gram­ming sur­face, con­sid­er­ably cut­ting your pro­gram­ming time by allow­ing mul­ti­ple Titan pro­gram­mers to work simul­ta­ne­ous­ly, before the main con­sole takes charge.
40

pre­ci­sion play­back faders in three page­able groups.

20

pro­gram­ma­ble macro execu­tor buttons.

3

met­al shaft opti­cal attribute encoders.

4

opti­cal play­back encoder pots.

15

.

6

" vibrant main touch screen with bright­ness control.

7

" vibrant sec­ondary touch screen.

6

mono

LCD

screens for dig­i­tal fad­er legends.

UPS

bat­tery back-up
New six-posi­tion artic­u­la­tion stand
Ergonom­ic trim and car­ry handles
Robust stain­less and zinc treat­ed steel con­struc­tion – built for life on the road
Includes

4

-port man­aged Giga­bit net­work switch
Opti­cal­CON Stage link out­put, with an option­al sec­ond link

8

phys­i­cal

5

-pin

XLR

opto-iso­lat­ed

DMX

out, up to

16

uni­vers­es over Art­Net or stream­ing

ACN

– total of

8192

con­sole channels.
Com­pat­i­ble with Titan Net – up to

64

uni­vers­es, total of

32

,

768

sys­tem channels.

4

Ether­con Giga­bit pri­ma­ry net­work con­nec­tion with a bat­tery main­tained man­aged switch sup­port­ing Titan Net, Art­Net and stream­ing

ACN

.

1

Ether­con Giga­bit sec­ondary Net­work con­nec­tion for Titan Net, Art­Net and stream­ing

ACN

.

1

stan­dard Opti­cal­CON stage link out­put, to con­nect to indus­try stan­dard net­work switch­es with opti­cal support.

SMPTE

Timecode/​LTC input

3

-pin

XLR

(trans­former isolated).
Trig­ger inputs on ¼" jack, suit­able for foot switches.
Audio in on stereo ¼" jack for Audio Triggering.
Head­phone

3

.

5

mm jack con­ve­nient­ly placed on the front panel.

4

USB

3

ports –

1

front,

3

rear.

DVI-D

for exter­nal display.
Two

3

-pin

XLR

dim­ma­ble lamp connector

MIDI

in, out and thru.
Com­pat­i­ble with Titan Remote (Wi-Fi access point required)
Includes: Flight Case, Dim­ma­ble Lamp x

2

, Cover