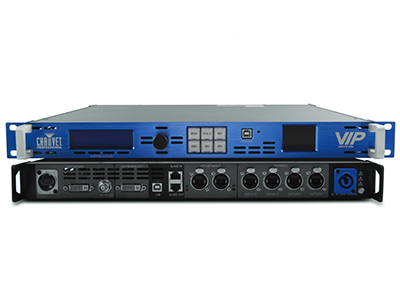 Chau­vet
VIP

Dri­ve

43

S Video Wall Mapper/​Scaler/​Switcher
Manufacturer: Chau­vet
Model Number:
VIP

Dri­ve

43

S

$ 200.00 / day
---
Video
Scalers and Switchers
LED Video Wall
---
Chau­vet VIP Dri­ve 43S Video Wall Mapper/​Scaler/​Switcher:
VIP Dri­ve 43s is a stream­lined all-in-one video wall mapper/​scaler/​switcher for use with Lin­sn video con­trol pro­to­col. With 4 inputs, 3 out­puts and a pre­view mon­i­tor, it will map your video wall, scale/​switch your video source, and allow remote trig­ger­ing via Art-Net (DMX over Eth­er­net), elim­i­nat­ing the need for indi­vid­ual map­pers, scalers, and video switch­ers. HDCP sup­port and EDID man­age­ment fur­ther improve the flex­i­bil­i­ty of the VIP Dri­ve 43s.