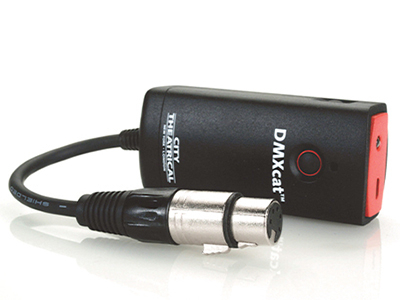 City The­atri­cal DMX­cat Mul­ti­func­tion
DMX

Test Tool
Manufacturer: City The­atri­cal
Model Number: DMX­cat p/​n
6000
$ 50.00 / day
---
Lighting
Lighting Consoles
Lighting Cables
---
City The­atri­cal DMX­cat Mul­ti­func­tion DMX Test Tool:
Includes: USB to Micro-USB Charg­ing Cable, M to M 5-Pin Turn­around, Belt­clip and Case.
***Android or iOS Device not includ­ed with rental.
The DMX­cat™ sys­tem from City The­atri­cal is a use­ful device that's designed for the light­ing pro­fes­sion­al who is involved with the plan­ning, instal­la­tion, oper­a­tion, or main­te­nance of the­atri­cal and/​or stu­dio light­ing equip­ment. It con­sists of a com­pact hard­ware inter­face device and a suite of mobile appli­ca­tions. Togeth­er, they com­bine to bring DMX/RDM con­trol plus sev­er­al oth­er func­tion­al­i­ties to the user's smart­phone for use wher­ev­er and when­ev­er need­ed. Devel­oped with input from design­ers and tech­ni­cians, the DMX­cat should prove to be an indis­pens­able tool for light­ing users. The DMX­cat will oper­ate with both Android and IPhones.
DMXcat's inter­face unit is a small bat­tery device that can eas­i­ly fit in a pock­et or tool pouch, or can be worn on a belt. It employs Blue­tooth® LE tech­nol­o­gy for com­mu­ni­ca­tion with the smartphone/​applications (up to 35ft range). With­out the lim­i­ta­tions of a phys­i­cal con­nec­tion, the user is free move about the work-space as need­ed with their smart­phone, run­ning the var­i­ous apps, while still using the phone for on-the-job com­mu­ni­ca­tion. The device's 5-pin XLRF connector/​cable assem­bly allows it to be con­nect­ed to a point in a DMX data chain to allow test­ing and/​or con­trol of the var­i­ous DMX/RDM chan­nel func­tions. It is charged using a stan­dard USB to Micro-USB cable and charger.
Oth­er high­lights include a built-in LED flash­light, audi­ble alarm (for locat­ing a mis­placed unit), LED Sta­tus indi­ca­tor, plus a remov­able belt clip.
Includes:
DMX

Con­troller
Fix­ture Controller

RF

Spec­trum Analyzer

DIP

Switch Calculator
Light Meter (Android only)
Fea­tures:
Inter­face device is a com­pact bat­tery pow­ered device unit
Blue­tooth

LE

tech­nol­o­gy for com­mu­ni­ca­tion with smartphone/​appli­ca­tions

5

-pin

XLRF

connector/​cable assem­bly allows it to be con­nect­ed to a point in a

DMX

data chain

USB

to Micro-USB cable and charger
Spec­i­fi­ca­tions:
CTI

Part No.:

6000

Wire­less com­mu­ni­ca­tion: Blue­tooth

LE

Range:

35

ft (

10

m)
Sta­tus

LED

indi­ca­tor: Yes, multicolor
Flash­light: White

LED

Charg­ing port: Micro

USB

DMX

con­nec­tion:

5

PXLRF (

5

-pin female

XLR

)
Apps:

7

- Android and

6

- iOS
Option­al:

RDM

Con­troller,

DMX

Tester
Con­struc­tion:

NEMA

1

ABS

enclosure
Phys­i­cal:

Dimen­sions (WxLxH):

1

.

63

″ x

3

.

75

″ x .

94

″ (

41

.

4

x

95

.

3

x

23

.

9

mm)
Weight:

0

.

3

lbs (

0

.

14

kg)

Com­pli­ance:

CE

, RoHS,

FCC
Notes:
There are cur­rent­ly sev­en (7) tools avail­able or in devel­op­ment for use with­in the DMX­cat app. Apps are avail­able through Google Play (Android) or the App­store (IPhone).
Apps Include:
DMX

Con­troller: a sin­gle uni­verse (

512

)

DMX

chan­nel con­troller with two (

2

) user interfaces
Fix­ture Con­trollerD­MX: test app for mul­ti-attribute fix­tures with built in data­base of light­ing fixtures

RDM

Con­troller: App for bi-direc­tion­al communication/​control of

RDM

enabled devices

DMX

Tester: Per­mits users to ana­lyze and or adjust set­tings for trans­mit­ting or receiv­ing

DMX

RF

Spec­trum Ana­lyz­er: For sur­vey­ing and visu­al­iz­ing Wi-Fi® networks

DIP

switch cal­cu­la­tor: This app sim­pli­fies the con­fig­ur­ing of

DIP

switch­es used for set­ting

DMX

addresses
Light Meter (Android only): Use­ful for set­ting light lev­els for on-cam­era use