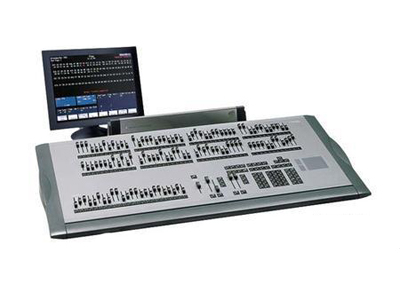 ETC Express 48/96 DMX Lighting Console
Manufacturer: ETC
Model Number: Express 48/96
$ 200.00 / day
---
Lighting
Lighting Consoles
---
The ETC Express 48/96 Control Console is a 2 scene, 48 channel, or a 1 scene 96 channel dimming control console. It has built-in interfaces for 512DMX, Ethernet, ETCLink, MIDI, MIDI Show Control, MIDI Time Code, Remote Macro/Go, Remote Trigger and Remote Focus Unit.
The Express 48/96 has memory for 600 cues, 500 groups, 99 focus points, effects of up to 100 steps each, 2000 macros, 24 submasters x 10 pages, 2 timed/manual fader pairs, a diskette drive for saving shows, and VGA monitor and printer ports.
This is a hands-on lighting control console with manual 2-scene preset operation, ETC Expression software and functionality. Suggested applications include, but are not limited to colleges, high/middle schools, community theaters, trade shows, small TV studios, and houses of worship.