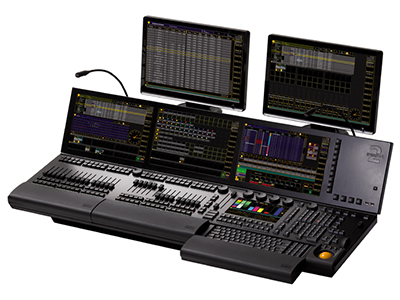 grandMA
2

full-size

8

GB Light­ing Console
Manufacturer:
MA

Light­ing
Model Number: grandMA
2

full-size — 

120111

Call For Price
---
Lighting
Lighting Consoles
---
Includes con­sole, road case, (2) con­sole lights, dust cov­er and pow­er cable. Addi­tion­al mon­i­tors can be added. This is the 8GB Version.
The grandMA2 full-size rep­re­sents MA Lighting's most pow­er­ful con­sole and offers the con­trol of con­ven­tion­al light, mov­ing lights, LED fix­tures and media from one platform.
Equipped with the most up-to-date tech­nol­o­gy and even some spe­cial fea­tures (e.g. key­board draw­er and mul­ti-touch com­mand screen), the grandMA2 is suit­able for all light­ing seg­ments. It sup­plies an intu­itive and fast con­trol of all con­nect­ed fix­tures and chan­nels. Fur­ther­more the grandMA2 fad­er wing pro­vides up to 60 extra motor­ized execu­tor faders for an almost unlim­it­ed num­ber of pages.

More­over grand­MA series 1-show­files can be con­vert­ed to be used with the grandMA2. And for yet eas­i­er oper­a­tion, all com­mand keys can be found in the same place on every con­sole of the grandMA2 series. The grandMA2 offers extreme­ly flex­i­ble and com­fort­able ways of pro­gram­ming, includ­ing near­ly infi­nite num­bers of pre­sets, cues, pages, sequences and effects.
All grandMA2 con­soles are option­al­ly avail­able as Silent Ver­sion with opti­mised fan for noise-sen­si­tive environments.
Real-time con­trol for up to

65

,

536

para­me­ters per ses­sion in con­nec­tion with

MA

NPU

(equiv­a­lent to

256

DMX

universes)

8

,

192

HTP

/

LTP

parameters

6

DMX

outputs

3

inter­nal

TFT

wide mode touch­screens (

15

.

4

″

WXGA

)

2

exter­nal

TFT

screens can be con­nect­ed (

UXGA

, touch­screens accepted)

1

inter­nal com­mand screen – mul­ti-touch (

9

″

SVGA

)

30

motor­ized execu­tor faders
Inte­grat­ed key­board drawer
Built-in unin­ter­rupt­ible pow­er sup­ply (

UPS

)

2

ether­CON con­nec­tors,

5

USB

2

.

0

connectors
Motor­ized mon­i­tor wing

2

motor­ized A/B fad­er

100

mm
Indi­vid­u­al­ly back­lit and dim­ma­ble silent (click­less) keys