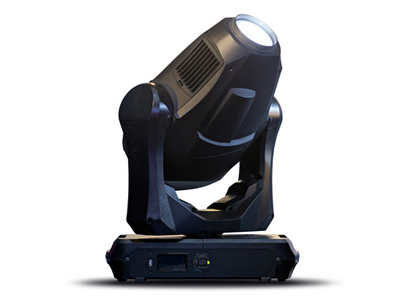 Mar­tin
MAC

Quan­tum Pro­file

CMY

Mov­ing Head
Manufacturer: Mar­tin
Model Number:
MAC

Quan­tum Pro­file — 

90240000

,

90240010

$ 225.00 / day
---
Lighting
Moving Lights
LED Lighting Instruments
---
This extreme­ly bright LED pro­file fix­ture com­bines top-qual­i­ty white light with a fast, smooth CMY col­or mix­ing sys­tem and crisp gobo pro­jec­tion on sur­faces as well as mid-air.

With all this and the new Ani­mo­tion™ FX sys­tem that allows nev­er-before seen beam ani­ma­tions, the mar­ket is now final­ly see­ing the first real 700⁄800 W dis­charge lamp replace­ment in a pro­file fix­ture that effec­tive­ly har­ness­es cut­ting-edge LED technology.


First real alter­na­tive to a

700

⁄

800

watt

HID

fixture

Flat field, crisp image, high contrast

Full fea­ture set includ­ing

CMY

col­or mix­ing and

1

:

3

zoom
Tech Specs
Phys­i­cal
Length: 452 mm (17.8 in.)
Width (across yoke): 431 mm (17.0 in.)
Height (head straight up): 642 mm (25.3 in.)
Height (max­i­mum): 648 mm (25.5 in.)
Weight: 23.2 kg (51.1 lbs.)
Dynam­ic Effects
Col­or mix­ing: CMY, inde­pen­dent­ly vari­able 0 — 100%
Col­or wheel: 6 col­or fil­ters plus open
Rotat­ing gobo wheel: 6 inter­change­able gob­os plus open, wheel rota­tion, gobo rota­tion, index­ing and shake
Sta­t­ic gobo wheel: 10 gob­os plus open, wheel index­ing, rota­tion and shake
Beam effects: Rotat­ing three-facet prism
Zoom: Motor­ized
Focus: Motor­ized, with zoom-focus track­ing
Iris: 0 — 100%, pulse effects
Shut­ter effect: Elec­tron­ic, with vari­able speed reg­u­lar and ran­dom strobe
Elec­tron­ic dim­ming: Four dim­ming curve options
Pan: 540°
Tilt: 268°
Pan and tilt speed: Adjustable via onboard con­trol pan­el and DMX
Con­trol and Programming
Con­trol sys­tem: DMX
RDM: Imple­ment­ed
Con­trol res­o­lu­tion: 8-bit, with 16-bit con­trol of dim­ming, gobo index­ing, zoom, focus, pan and tilt
DMX chan­nels: 19⁄27
Set­ting and address­ing: Con­trol pan­el with back­lit graph­ic dis­play
DMX com­pli­ance: USITT DMX512-A
RDM com­pli­ance: ANSI/ESTA E1.20
Trans­ceiv­er: RS-485
Fix­ture soft­ware update: Direct using USB mem­o­ry stick or via DMX link using Mar­tin USB Duo™ DMX Inter­face Box
Optics
Light source: 475 W LED engine
LED refresh rate: 3000 Hz
Min­i­mum LED life­time: 50 000 hours (to >70% lumi­nous output)*Zoom range: 12° — 36° (1:3)Output: 12,700 lumens
*Fig­ure obtained under manufacturer´s test conditions
Con­struc­tion
Col­or: Black
Hous­ing: High-impact flame-retar­dant ther­mo­plas­tic
Pro­tec­tion rat­ing: IP20
Instal­la­tion
Mount­ing points: 4 pairs of quar­ter-turn locks
Loca­tion: Indoor use only, must be fas­tened to sur­face or struc­ture
Ori­en­ta­tion: Any
Min­i­mum dis­tance to com­bustible mate­ri­als: 0.2 m
Min­i­mum dis­tance to illu­mi­nat­ed sur­faces: 2.0 m
Con­nec­tions
AC pow­er input: Neu­trik Pow­er­Con
DMX and RDM data in/​out: 5-pin lock­ing XLR
Elec­tri­cal
AC pow­er: 120 – 240 V nom­i­nal, 50⁄60 Hz
Pow­er sup­ply unit: Auto-rang­ing elec­tron­ic switch mode
Max­i­mum total pow­er con­sump­tion: 750 W
Typ­i­cal pow­er con­sump­tion, all effects sta­t­ic, zero light out­put: Approx. 50 W
Typ­i­cal half-cycle RMS inrush cur­rent: 10.3 A
Typ­i­cal Pow­er and Current
120 V, 60 Hz: 4.8 A, 576 W, PF 0.999
208 V, 60 Hz: 2.8 A, 568 W, PF 0.991
230 V, 50 Hz: 2.5 A, 565 W, PF 0.988
240 V, 50 Hz: 2.4 A, 565 W, PF 0.988
Mea­sure­ments made at nom­i­nal volt­age with all LEDs at full inten­si­ty. Allow for a devi­a­tion of +/- 10%.
Ther­mal
Cool­ing: Forced air (tem­per­a­ture-reg­u­lat­ed, low noise, user-defin­able levels)Maximum ambi­ent tem­per­a­ture (Ta max.): 40° C
Min­i­mum ambi­ent tem­per­a­ture (Ta min.): 5° C
Total heat dis­si­pa­tion (cal­cu­lat­ed, +/- 10%): 2000 BTU/​hr.