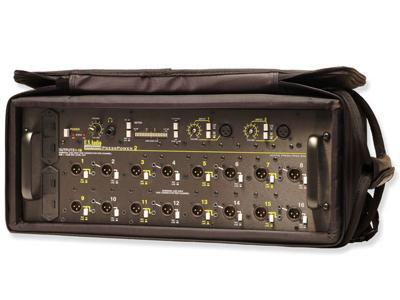 Press Mult Whirl­wind PressPow­er
2

2

×

16

Active
Manufacturer: Whirl­wind
Model Number: PressPow­er
2
$ 75.00 / day
---
Audio
Snakes and Transport
---
It fea­tures 2 mic/​line inputs with indi­vid­ual gain con­trols and 16 trans­former iso­lat­ed out­puts that are indi­vid­u­al­ly
switch­able for mic or line lev­el oper­a­tion. The PRESSPOW­ER 2 includes a 20-seg­ment LED lev­el meter, an inter­nal test tone gen­er­a­tor, a built-in head­phone mon­i­tor amp with vol­ume con­trol, high-pass fil­ters, and phan­tom pow­er — all con­ve­nient­ly front-pan­el accessible.

The high-per­for­mance input stage pro­vides clean audio even in high RF environments.

The unit can be pow­ered by 115⁄230 VAC — 50⁄60 Hz, by (4) 9 V inter­nal bat­ter­ies or with an exter­nal DC sup­ply (12 — 36 VDC) con­nect­ed via rear ter­mi­nals. This allows the unit to be pow­ered by a car bat­tery, cig­a­rette lighter, cam­era pack bat­tery, etc. In the event of an AC pow­er fail­ure or bat­tery exhaus­tion, the unit will auto­mat­i­cal­ly switch to alter­nate pow­er by select­ing the strongest Volt­age available.