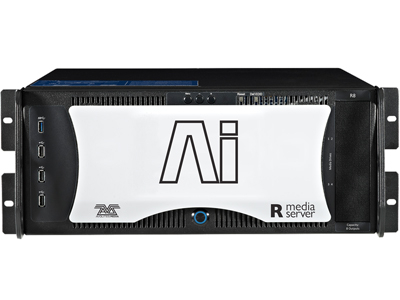 Avo­lites Infin­i­ty Ai R

8

Media Server
Manufacturer: Avo­lites
Model Number: R

8
Call For Price
---
Lighting
Lighting Consoles
Video
Video Playback and Recording
---
The Ai R8 offers 8 Dis­play­Port out­puts and up to 12 lay­ers and 8 out­puts depend­ing on project con­fig­u­ra­tion, with top spec, ful­ly
fea­tured Mia­mi licences.

Hard­ware includes the lat­est gen­er­a­tion moth­er­boards sup­port­ing PCI-Express Gen­er­a­tion 3.0, AMD Gen 3 Graph­ics Cards and an Intel PCIe SSD mod­ule with 1.2TB capac­i­ty.

Ai R8 servers offer MIDI Time­code inputs and sup­ports Art­Net and CK Ki-Net out­put protocols.
Ai R8 features:
Smooth play­back of up to

8

K media using the AiM Codec
Up to

4

or

8

full

1080

p

HD

outputs
Soft-edge blend­ing of mul­ti­ple projectors
Time­line, Time­code Sequencer
Build and cre­ate in the

3

D Stage Visualiser
Remote ver­tex adjustment
Map and warp onto any

3

D surface
Videomap onto any mov­ing scenery
Intu­itive mod­u­lar

LED

support
Con­fig­ure mul­ti­ple sys­tems as Mas­ter or Slaves
Sal­va­tion node based engine
Sup­plied pre-installed with an exten­sive Media Library of

320

HD

AiM clips
Cap­ture input options:
Addi­tion­al Includ­ed Options:
Gen­lock Cam­era Sync

LTC

Time­code Input

4

DMX

outputs