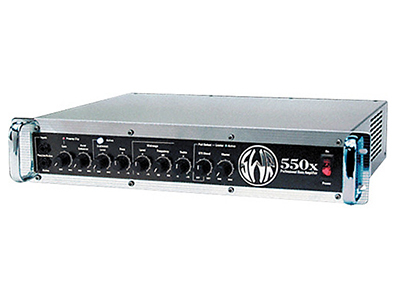 SWR

Bass

550

X Sol­id State Head
Manufacturer:
SWR
Model Number:

550

X
$ 50.00 / day
---
Backline
Bass Amps/Heads
---
SWR Bass 550X Sol­id State Head w/​Road Case
Fea­tur­ing more lows from the Sub­wave octave generator.
World-famous SWR pow­er in a con­ve­nient 2-space rack unit. 550W at 4 ohms, all-tube pre­amp, dual inde­pen­dent input jacks both com­pat­i­ble with active and pas­sive bass­es, exclu­sive Aur­al Enhancer cir­cuit­ry, Sub­wave with lev­el con­trol, lim­iter with defeat switch, active bass and tre­ble con­trols, vari­able midrange EQ, effects blend con­trol, and ultra­high-pol­ished alu­minum front pan­el with chrome rack han­dles. Back pan­el fea­tures include sidechain mono effects loop, bal­anced XLR line out, tuner send, sub­wave footswitch jack, dual Speakon and 1⁄4″ speak­er outputs.
Fea­tures
2

-space rack unit

550

W at

4

ohms
All-tube pre­amp
Dual inde­pen­dent input jacks both com­pat­i­ble with active and pas­sive basses
Exclu­sive Aur­al Enhancer circuitry
Sub­wave with lev­el control
Lim­iter with defeat switch
Active bass and tre­ble controls
Vari­able midrange

EQ

Effects blend control
Utra-high-pol­ished alu­minum front pan­el with chrome rack handles
Back pan­el fea­tures include sidechain mono effects loop
Bal­anced

XLR

line out
Tuner send
Sub­wave footswitch jack
Dual Speakon and

1

⁄

4

″ speak­er outputs