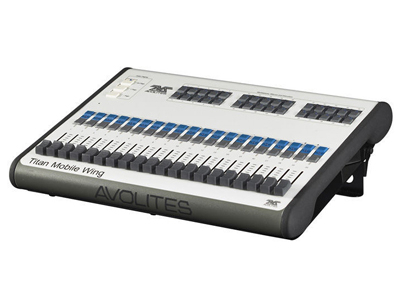 Avo­lites Titan Mobile Wing
Manufacturer: Avo­lites
Model Number: Titan Mobile Wing
$ 100.00 / day
---
Lighting
Lighting Consoles
---
Titan Mobile Wing gives direct access to your most used items, such as Shape Over­lay Cues, Blind­ers, House Lights, Smoke Machines or Per­former Key Lights for TV pro­duc­tions. A gen­er­ous 30 user-pro­gram­ma­ble Execu­tors offer con­trol or selec­tion of Cues, Lists, Palettes, Groups or Macros.
Live Play­backs, Solo and Flash but­tons, user pro­gram­ma­ble but­tons and Attribute con­trollers enable fast and accu­rate show pro­gram­ming in a flight friend­ly package.
The Titan Mobile Wing is com­pat­i­ble with all Titan con­soles (except the Titan One).
Com­pat­i­ble with all Titan con­soles (except Titan One)

20

smooth play­back Faders

30

pro­gram­ma­ble Executors
Local, Inde­pen­dent Pag­ing Control

USB

Pow­ered — no need for a sep­a­rate

PSU

Robust con­struc­tion, built for the life on the road
Ded­i­cat­ed work­space win­dow in Titan software